I think the depth chart thread should be about that.
So I think we should have different starters and the guys should both play in games.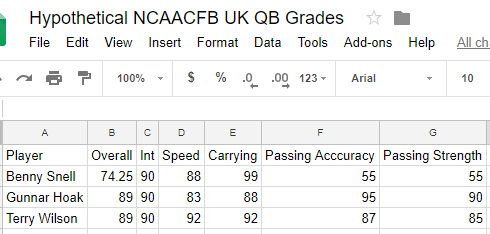 The easy part, at least for me doesn't involve either. There is a third. The QB spot in the Wildcat isn't exactly a QB, but I think Snell should play QB in very short yardage situations and almost the whole game against tUSC, cause run over them all day/night and Sunday those buggers.
Now for the hard part. Hoak or Wilson?
For Wilson to throw well, imho, he'll need a LOT of time and fairly open and good WRs. Hoak won't be as needy for either, but he won't be like a great Arena QB. If a defense completely breaks the OL, Wilson will be better.
Against teams where our ball catchers, gotta include the TEs, not as much as most people would like due to keeping them healthy concerns, but they aren't NOT there, either, and OL are better than their secondary then it doesn't matter a lot who starts.
Against the middlin' teams I think Hoak should start. It's a more balanced attack to have Benny and Co and a solid, but normal, passing game. If it doesn't work, put in Wilson.
Against the roughest teams I think Wilson should start. He should be able to survive a severe pass rush better. Might be able to force the safeties ALL the way up with his wheels, and that would allow him to get one over, maybe. If it don't work, Hoak.
But John, you are such an idiot! If you have more than one QB you have none!
How'd that work out for the Packers last year?
I see it like having a 2011 Tebow, even though Wilson has way more speed and less power, the effect might be the same, and like a Tony Romo, on the same team.